« go back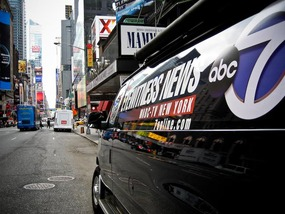 Eyewitness News
On the Road
Can you imagine what it must have been like to be one of those who were privileged to witness the event of the Ascension of our Lord? Can you image what it must have been like to receive Christ's commission to make disciples of every nation?
This call to spread the Gospel to the ends of the Earth is our commission too. This responsibility given to the Apostles is at the heart of our baptismal call and the foundation for the New Evangelization. We need to humbly recognize that this only possible if we trust in Christ's promise: "I am with you always" (Matthew 28:20). By the gift of the Holy Spirit we, as members of the Church, are "eye-witnesses" to the Good News through our celebration of the sacramental life of the Church.
Encounter
"For what is faith unless it is to believe what you do not see?"
Saint Augustine
"While he was blessing them, he withdrew from them and was carried up into heaven."
Luke 24:51
Go Forth
When are you most aware of Jesus' presence in your life? When do you most need the Lord to be with you?
« go back