« go back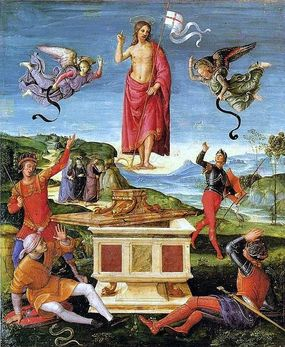 Reflecting on the Mysteries
On the Road
Taking time to reflect on our experiences of the Triduum is important to our faith journey. The signs and symbols in the liturgies call attention to how God has blessed and saved us through his only Son.
On Holy Thursday, we celebrate the Lord's Supper and keep watch with Christ, as did his Apostles. The washing of feet reminds us of our call to serve as Jesus did. On Good Friday, we incensed and reverenced the Cross—the tree of our redemptive life.
During the Easter Vigil Mass, we light the Easter fire and Paschal candle. Through the Rite of Christian Initiation of Adults, catechumens enter the Paschal Mystery, dying to sin and rising to new life in Christ. All of the faithful reject sin and profess our faith. Like the first disciples, we wait in gratitude and hope for the promise of eternal life with God.
Encounter
"Holy Week is not so much a time of sorrow, but rather a time to enter into Christ's way of thinking and acting."
Pope Francis
"May I never boast of anything except the cross of our Lord Jesus Christ, by which the world has been crucified to me, and I to the world."
Galatians 6:14
Go Forth
Identify one aspect of the celebration of the Easter Triduum that is especially meaningful for you. Reflect on why it has such great significance in your life.
During this Easter season, keep in your prayers the neophytes who were received into the Catholic Church at the Easter Vigil Mass.
« go back